Wedding Dance DVD Features
Learn your first dance as a married couple in the convenience and privacy of your own home!
Sure, you could go to expensive dance lessons, but lets face it, who has the time, money or patience to endure weeks and weeks of lessons? For less than the cost of one studio dance lesson you can receive dance instruction with the ability to repeat each step as many times as you like – all in the privacy of your own lounge room.
With Learn Your Wedding Dance you'll quickly see that dancing to your favourite love song can be much more than just swaying back and forth. In fact, it can be one of the most romantic and even exciting parts of your evening, and is sure to be a highlight of your wedding day and your wedding video memories.
The Learn Your Wedding Dance DVD costs only $29.95 including postage! Make learning your wedding dance easy – Order your DVD here.
Master Three Wedding Dances and Learn How to Perform Them with Style and Confidence
Unlike other dance videos or DVDs, you get to select from three choreographed dance routines specially designed for couples to perform on their wedding day. A sexy rumba, a traditional waltz or a beautiful slow rhythm dance.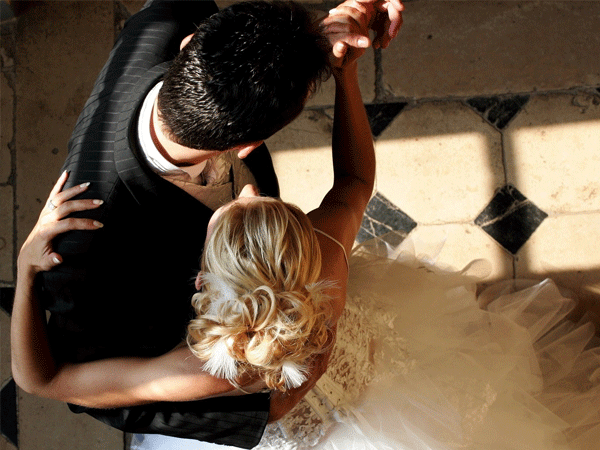 About the DVD Content
Survival Tips for Beginners
To make sure you look fabulous on the dance floor, Jaimie, your DVD presenter, provides a series of comments and secret tips from a beginner's point of view on how to survive your wedding dance, and add that extra something to thrill your guests.
Learn all the steps or just those you feel comfortable with – it's that easy.
The down to earth, professional wedding dance instructor, Mike, and his female dance partner, Claire, will show you step by step through each move with elegant turns and dips to create your own special choreographed routine.
About your dance instructor and his assistant
Mike Myers, your dance instructor, runs an extremely successful dance studio in Newcastle Australia, and has taught professional dance champions, as well as countless social and wedding dancers since the early 1990's. Mike's dynamic and fun teaching style, dance prowess, and his obvious passion for dance make him a very popular dance teacher. If you want your wedding dance learning experience to be fun this is the DVD for you.
Believe it or not Claire Cremer learnt to dance these wedding dances from Mike just three weeks before filming. Like you, she is a beginner dancer and the level of skill she achieves is a testament to Mike's fantastic teaching techniques. Claire brings beauty and grace with uncomplicated, easy to follow demonstrations, that ensure your learning experience results in success.
Nothing is left to chance
After the step by step dance instruction, you will be shown how to perform the dance as a full routine by Mike and Dakota Ray, another professional dancer. Mike and Dakota dance each of the routines demonstrating the grace and professional polish you too can add to your routine. This demonstration dance is performed in a beautiful outdoor setting with expert commentary by Mike and Jaimie to guide you through the dance. We encourage you to watch these dances again and again to familiarise yourselves with the routines and the subtle hand and head movements that will make you look fantastic on the dance floor.
You will even be shown important procedures including: how the husband should escort his bride from the bridal table to the cake table. How and when to pose for photos during the cutting of the cake. Plus, how to walk onto the dance floor and prepare for that all important first dance performance. Nothing is left to chance!
Approx. 95 minutes
DVD – Region 0. (Will play in every country in the world)
Format – Pal (also available in NTSC)
Audio – Stereo
Why you need Learn Your Wedding Dance …
Look fantastic in your wedding video and photographs.
It's definitely the easiest way to teach your fiancé to dance for your wedding
It's for all ages and skill levels, and is especially intended for those learning to dance for the first time.
Ensure your first wedding dance is memorable for you and your guests
Learn your wedding dance at your own pace, in your own home, in your own time. Watch each step as many times as you need.
Dance Step Animations to follow for ultra fast and easy mastery of each step.
No expensive wedding dance lessons or embarrassing moments. Wedding lessons with a studio dance teacher can run into hundreds if not thousands of dollars. Order Learn Your Wedding Dance and receive three complete dance routines for less than the cost of one studio lesson!
Teach the whole bridal party to dance or make it a big surprise …
Make your dance a show piece of your wedding rather than something to cringe over. Memories that you will cherish forever.
Learn to dance and have fun together during your first dance and forever!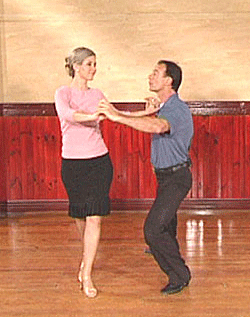 "Learn to Wedding Dance" includes:
Step by step

dance instruction

by professional Australian ballroom dance instructor.
Instruction for

three choreographed wedding routines

: a sexy rumba, an elegant waltz and a slow rhythm dance.
Each step is demonstrated as a couple and then male and female steps

taught individually

for quick learning by both partners.
EXCLUSIVE to "Learn Your Wedding Dance " – every dance step has a

Dance Step Animation

so learning is fun, and EASY!!
Tips on

interpreting music

, and a list of wedding song suggestions.
A series of Wedding Dance Performance Survival Tips so your performance is perfect on your special day.
Learn Your Wedding Dance also includes a full demonstration of each of the three wedding dance routines with commentary and style tips.