Free Wedding Dance Tips
The Learn Your Wedding Dance DVD is all about teaching you a simple and elegant routine, but most of all it's about having fun and taking the stress out of that first dance.
To help make sure your bridal dance is as perfect as it can be, we have included some dance tips below.
Your First Dance as a Married Couple is Important
Your bridal dance will be something the two of you will remember forever, unlike the flowers, the cake and the table decorations. The memory of your dance will be yours for a lifetime. Also remember that this moment will be captured on video. A performance you will be proud to share with your friends and maybe even your children!
SO … learning a proper wedding dance is WELL WORTH THE EFFORT.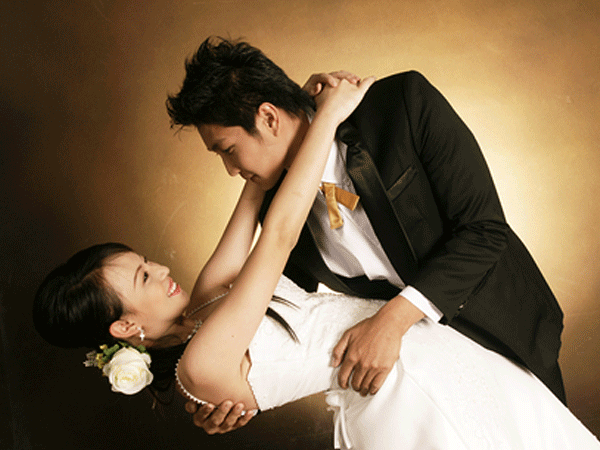 1. MAKE YOURSELF A HANDY 'QUICK REFERENCE' CUE-CARD
Learning the steps with the "Learn your Wedding Dance" DVD is easy. However, being confident you will remember all the steps on the night can sometimes be a cause for stress … especially for men.
Here's an easy solution …
To jump-start your memory, make yourself a palm-sized cue-card that lists the steps of your chosen wedding dance. Make the card so it fits right in your shirt pocket just in case you need a quick-reminder of the steps, rhythm or even the moves of your dance. Laminate the card so it doesn't melt in your sweaty palm!
To find the dance step names, fast forward the DVD to the dance menu of your chosen dance and write down the dance step names on your card. Other information to include could be – counting style or reminders such as "FIRST STEP – men always step forward on their left foot / women back on their right ".
2. HOW TO PERFECT YOUR WALTZ POSTURE
Remember the following when learning your waltz routine
Posture (upright)
body positions (very close – see DVD for five points of contact)
head position (girl head tilted back and looking over men's right shoulder)
gliding rise and fall of your body (rising on beat 1 & 2 and lower on beat 3).
guys always lead with your left foot forward
girls always lead with your right foot back
Remember there are more practical tips and male and female demonstrations of the wedding waltz posture on the Learn Your Wedding Dance DVD.(Order your DVD.) Remember also that every Learn Your Wedding Dance DVD comes with free email support.
3. HOW TO MAKE THE BIGGEST IMPACT DURING YOUR WEDDING DANCE
Make sure the dance floor is empty during your dance routine.
Sadly many wedding couples are only capable of performing a shuffle for their wedding dance so are relieved when their guests join them on the dance floor. This is not the case if you are lucky enough to have learnt a beautiful routine for your special moment on the dance floor. When you have learnt a special routine, you will want the dance floor empty so you can enjoy your moment and impress your guests.
The best way to ensure the dance floor is kept clear throughout your routine is to ask your MC to make an announcement before your dance commences. Something like "Ladies and gentlemen I would now like to welcome the bride and groom to the dance floor to perform their first dance as a married couple. This dance is a special choreographed routine so I would ask all guests to keep the dance floor clear until our couple have finished their routine. I would also suggest you to get your cameras and tissues ready as I know they have planned a beautiful and romantic routine that is sure to capture your hearts."
4. PERFORM WITH CONFIDENCE AND BIG SMILE FOR EACH OTHER AND YOUR GUESTS 
It is most important to look confident and show you are enjoying yourselves while performing your wedding dance. The easiest way to achieve this is to hold your head high and smile. What ever you do, don't ever look at your feet. It is most important to make sure you practice your routine many times with the music so you are confident with each step and what comes next.
After you have learnt the steps, we suggest you practice your routine either in front of the TV while your DVD is playing your chosen demonstration dance in the Rotunda setting (see Routines without Commentary under Special Features on your DVD) or use the special Audio CD with your chosen music. If you are still worried about performing on the big night you might even like to visit a local club and practice your routine in public. You will be amazed at how much fun you will have trying out your new dance skills together.
There are many more great wedding tips on the Learn Your Wedding Dance DVD.
(For only $29.95 including postage we will show you step by step how to perform your wedding dance with confidence and style.)
5. WEAR A WEDDING GOWN THAT LOOKS FANTASTIC AND IS EASY TO DANCE IN
A few tips:
Light floating fabric in your skirt can look fantastic while dancing.
Sequins and other sparkling gems sewn into your wedding dress will look sensational on the dance floor with the lights on you.
Try to avoid a dress with a train. If your dress has a train ask your dressmaker to insert hooks & loops so it can be hooked up out of the way while you are dancing.
Ladies shoes with a closed in heel are much safer to dance in. Shoes with a closed in heel hold your foot firmly in your shoe so you can't slip out of your shoe. If you have open heel shoes try taping your foot to your shoe with Hollywood Tape.
To find your perfect wedding dress try searching on Wedding dresses – The Bridal Net for all your wedding services.
There are more wedding dress and wedding shoes suggestions on the Learn Your Wedding Dance DVD.
Buy the DVD here for $29.95 (FREE POSTAGE THIS MONTH). Wedding dance lessons in a dance studio could cost your $40-$80 per lesson and you will need at least 6-8 lessons. This is why we made the DVD!!
Who has the time or money to attend studio lessons? Let alone the inconvenience and embarrassment factor.
Please email me if you have any further questions and I do wish you every success and happiness for your wedding.
Regards
Jennifer